Certainly, certifications are always an investment in one's life that is worth having. But the question here now is, is CompTIA Linux + certification really worth it in 2023? Honestly, working on new skills and learning new technology will always take time.
Anyway, this will be to you a great CompTIA Linux+ guide to Linux certification by the time you are done reading.
This certification is expected to take several months for most of the year. Are you ready to invest your valuable time and energy into Linux + this year?
In addition, certifications are very popular in the cybersecurity field, and there are a number of certifications related to the Linux operating system that are available to professionals in the field.
CompTIA Linux+ overview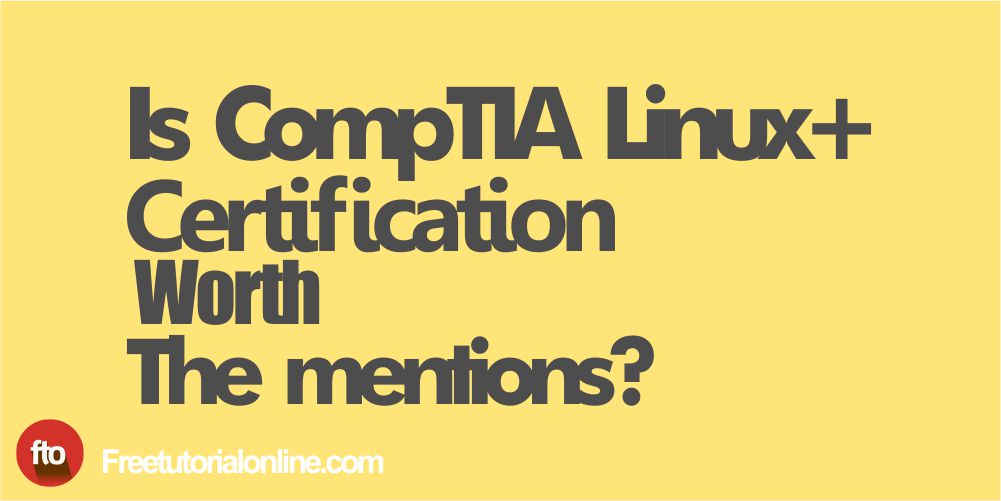 In this article, I will focus specifically on CompTIA Linux + certification. Also, I will discuss whether your investment in time and money is worth it.
However, I will also introduce some free tutorials on CompTIA Linux from Udemy. With in-depth reviews on the course and the certification and its worth as well.
CompTIA Linux+ validates the skills of IT professionals with hands-on experience configuring, monitoring, and supporting servers running the Linux operating system. The new exam has an increased focus on the following topics: security, kernel modules, storage & visualization, device management at an enterprise level, git & automation, networking & firewalls, server-side & command line, server (vs. client-based) coverage, troubleshooting, and SELinux. –

Offical Comptia Discription of the CompTIA Linux+ Exam
Also read: Coursera Review 2023 |10 reasons to choose Coursera Courses now
Definitely, if you're new to Linux World and ready to dive headfirst, Linux + can help you achieve your goals. It has the weight that staff, as well as hiring managers, recognize immediately.
But if truly you want to stand out from the crowd that may have only required Linux + or Network +, this is definitely the way to go. This is a top-level certification offered by CompTIA.
Is CompTIA Linux+ certification really worth the mention?
Is CompTIA Linux + worth it? CompTIA Linux + is a worthwhile certification for new and junior Linux administrators. However, employers do not recognize it as much as the certifications offered by Red Hat.
For many experienced Linux administrators, Red Hat certification would be a better option for certification.
Linux + deserves a serious look, especially if you are new to Linux or in the early years of Linux administration. I recommend adding it to your resume if you have time to dedicate it.
Let's go ahead and take a closer look at Linux + certification and explain why you might want to add this to your resume.
What is the CompTIA Linux+?
The CompTIA Linux + certification is a single exam certification that verifies knowledge of the Linux operating system from a vendor-neutral perspective.
Also read: Top 10 programming languages you can learn at Home| 2023
Linux + certification covers all common areas of Linux server management, including security and network concepts. Let's see more from the vendor-neutral perspective.
CompTIA – Vendor-neutral certification company
Firstly, before you dive into the Linux world with the CompTIA Linux + certification, please note that this is vendor-neutral. This means that CompTIA works with the top providers in every industry for whom they test the design, but does not choose any of the others.
The fact that Linux is so extensive that if you use a few different Linux distributions, you know that each one has different commands. Also, different approaches to a problem.
Don't be deterred from taking the exam. But understand that when you switch between different Linux types, you will find different options. And also, commands to perform the same functions.
Also read: Download Latest Microsoft Excel Tutorials Free | 2023
From a new career perspective, you don't know exactly which Linux distribution you will be in. In addition, knowing a little bit of everything will help. In the industry, you now see different distributions for different purposes.
Porteus is currently a small player in the marker for kiosks. When it comes to servers, you see a lot of Red Hat Enterprise Linux servers. For developers, openSUSE may appear frequently. If you haven't decided on the exact career path in the Linux world yet, Linux + is worth a closer look.
What is the cost of the CompTIA Linux+ Exam?
The cost of the exam is $ 319. That may be a lot for some people, but I think performance is worth the investment in the long run. With that in mind, you'll likely need to spend money on training videos and textbooks.
That increases costs. There is also a time cost. This type of examination usually lasts 3-6 months with approximately 7-10 hours per week.
However, if you want to enter Linux, there aren't many other options available to you. Despite the investment, Linux + profits could still be worthwhile in 2023.
Format and patterns of the CompTIA Linux+ Exam
For instance, over 15 years ago, it was a single exam. For a time, it was divided into two examples, one of which was more challenging than the other. It has now returned to the single exam format. Some people may have mixed views.
On the other hand, an exam is easier to get on and off in one day. For newer people, however, it helps to make the first exam easier to build trust for the second exam. This would probably be a personal preference though.
Also read: 55 Mobile Apps that can Pay you well in 2023
The exam itself has the standard multiple-choice exam found on most tests. However, these multiple-choice questions can have one or more answers. Some will be questions to fill in the gaps and also be prepared for these questions.
Always read the questions carefully. Another thing to consider is what they call performance-based questions. These are like laboratories and offer you a realistic scenario that you can solve. Make sure you gain practical experience and not just study a book for this test.
How much time is allocated for the CompTIA Linux+ Exam?
Above all, you have 90 minutes to take the exam with around 90 questions. This corresponds to an average of approximately one minute per question.
Take your time, but don't spend more than a few minutes answering a question. You may be able to answer some questions in a few seconds, while others may take a little longer.
My suggestion is to take about 45 minutes (halfway) and then take a short break of 1 to 2 minutes. This way you can concentrate and get an idea of how long you can wait.
Also, read Top 7 New Programming Languages To Learn In 2023
Firstly, you need a score of 720/900. This would be about 72%. If you find good test software before the test, you can try to determine where you are before the test. My suggestion would be for you to aim at between 85% to 90% consistent across several different tests.
As a rule, major study guides offer you several tried and tested practical tests. However, pay attention to the so-called "brain discharges". It may be tempting to learn only for the exact exam. But it will serve you better, in the long run, to really learn the content before the exam.
Is the CompTIA Linux+ Exam Difficult?
Most importantly, the difficulty of this test is a subjective question. The CompTIA Linux+test can be easy if you have been working on Linux for years.
However, if you've never touched Linux before, wait a few months. TheLinuxNerd.com is here to assist you on your journey to the land of Linux. When you are ready to work, it is definitely worth buying CompTIA Linux + in 2023.
Here are the 5 key things you will learn on the Linux+
Boot process
Kernel Modules
Network connection parameters
Managing Storage
Localization
Software installation
GUIs
Devices
Users and groups
Automating Jobs
File Handling
Service Management
Server Roles
Permissions
Authentication
SSH
Terminals
Keys
VPN
Hardening
Logging
Firewalls
Backup and Restoring Files
Analyzing System Properties and Processes
Troubleshoot End-User issues
Applications issues
Hardware issues
Bash
Git
Orchestration Processes and Concepts
CompTIA Linux+ salary (Job out looks for Linux+ Certified Professionals)
The average CompTIA linux+ salary in the U.S. is $ 59,000, according to a report by ITCareerFinder.com. In general, certification helps you overcome a company's human resources department. In addition, it means it is more likely to be interviewed.
Likewise, with the right skills and the right personality, anything is possible. For an entry-level job at I.T., you will certainly have many options. Yes, CompTIA Linux + could be worthwhile in 2023 for sure.
Also read: 7 Easy and Legit Ways To Make Money Online in 2023 | Free Tutorials
Who should consider the Linux+?
Firstly, there are other more popular and widely recognized Linux-related certifications, such as the Red Hat Certified Systems Administrator (RHCSA). However, Linux + is a good, vendor-neutral, Linux-based certification for those in the early stages of their careers as IT or system administrators.
5 best reasons to consider acquiring the CompTIA Linux+ certification
1. The CompTIA Linux+ Proves You Understand Linux.
In fact, one of the biggest advantages of Linux + certification is that it is evidence to show your potential employers. Also, it shows that you are familiar with the basics of Linux and familiar with the basic commands and concepts of the operating system.
Most importantly, this is an important point and makes CompTIA Linux + worth considering on its own. Especially if you don't have any other Linux-related certifications.
My point is that CompTIA Linux + certification is a quick way to show employers that you have Linux skills. Also, that would probably help you open the door to Linux-related job opportunities, especially if you are on or at a junior level.
2. CompTIA's Reputation Supports the Linux+
Similarly, another advantage of Linux + is CompTIA's longstanding reputation. The whole reason for obtaining certification is that you pay an accredited organization to test your skills.
Probably, it will determine if you have enough knowledge of the subject to be certified. Moreover, in terms of content and the company is worthy of your name to put on the line. It also declares that you are competent in the field to be examined.
Meanwhile, this is also the reason why you often read a line regarding the issuing of certifications that the issuing organization can withdraw your ownership from your certification at any time if it deems it appropriate.
Also read: How to make money on YouTube without making videos in 2023
This is also the case if you believe that a person no longer deserves the name of your organization that supports you (or later find that you have cheated in some way). They can withdraw their connection to themselves or to other people, which they think are not worthy of the certification approval.
So, when you walk into an interview room with the Linux+ certification in your file, you are showing an employer a certification that says CompTIA vouches for your knowledgeability on the Linux operating system. And is willing to put their name on the line to vouch for your expertise.
Cyber security personnel views on CompTIA certifications
It is true that many certifications by CompTIA are considered by cybersecurity professionals to be lower-level or entry-level, and that is in many ways true.
However, this is not a bad thing for those within the first few years of their career. And also, keep in mind that those cyber professionals have moved on beyond much of what CompTIA offers.
Probably do recognize CompTIA and know what it stands for, as do the hiring managers that fill these positions.
3. You Can Use Linux+ to Evaluate Your Knowledge
In other words, the reason I think it is a good idea to take the Linux + certification exam. Is to be able to test your knowledge of the basics of the operating system and find out where your weak points are.
However, I don't suggest this for every certification. But the fact that Linux + is relatively affordable and more administrator-oriented. It is a certification that poses less risk of wasted time and money if not passed the test.
Also read: The Python Mega Course: Build 10 Real World Applications 2023|Free Download
4. The Current Format of the Exam is Much Improved Over Previous Versions.
Most noteworthy, CompTIA recently ran a review update and updated information about the Linux operating system. CompTIA names optimizations in topics such as:
Storage and display
Device management at a company level
Automation
Server-side and command line
Server coverage (client orientation) and troubleshooting
The exam also now has performance-based questions in addition to the standard multiple-choice questions. All of these updates mean one thing in the long term for those that take and pass the CompTIA Linux+: it will slowly become a more respected certification.
5. Linux+ is Now a Single Exam
I prefer certifications that only require one test to pass out. As it will help those who start their cybersecurity careers catch up and certify faster, and therefore advance their careers much faster.
Finally, the current version of Linux + is now one exam certification, which is a nice change from the previous format of two exams. The individual exam has more questions than previous exams, but at least this certification is a unique format.
Also read: Learn Python and Ethical Hacking From Scratch Free Download
You might want to consider Red Hat Linux Certifications.
Firstly, Red Hat certifications, such as the Red Hat Certified System Administrator (RHCSA), are solely focused on the specific skills required of an I.T. professional, who is in a Linux environment than what the CompTIA Linux+ happens to be.
As I've mentioned earlier, obtaining either certification is better than just listing Linux as a skill. Because it gives the employer physical evidence that you know what you are doing and have a foundational knowledge of the OS.
Red Hat is an excellent Linux certification for every aspiring cyber personnel, but Linux + is an excellent certification for someone who wants to gain a foothold with every Linux operating system distribution.
Differences between Red Hat Linux CompTIA Linux+
The main difference between the two is that Red Hat focuses more on the actual practical use of Linux, while CompTIA Linux + focuses more on broader concepts and commands. The Red Hat exam includes skills use questions, while Linux + consists of multiple-choice and performance-based questions.
Another difference is that Red Hat only certifies Red Hat's distribution of the Linux operating system and Red Hat technologies. The Linux + certification is cross-distribution and therefore a better certification for someone who just wants to get a basic certification that covers all Linux variants and shows that he knows the operating system.
Lastly, I think many employers would choose a Red Hat Certified Candidate instead of a CompTIA Linux + Certified Candidate, everything else is the same. For most of us also, this means that if we want to continue our Linux career, we should be Red Hat certified at some point.
Also read: Download Full Neil Patel Agency Unlocked Tutorials & Courses in 2023 Free
Other Linux Certification Options you may consider
In addition to CompTIA's Linux + certification, you have other options. Depending on your level of knowledge, you may want to skip it and opt for one of the most prestigious certifications.
1. Linux Professional Institute Certification (LPIC- 1)
This certification is probably your equivalent degree for CompTIA Linux+. If you learn Linux + today, you will automatically receive the LPIC-1.
2. Linux Foundation Certified System Administrator (LFCS)
The Linux Foundation is led by Linus Torvalds, the creator of Linux, which Linux was named for. This would be a great option to explore.
If you receive this certification, you can get the highest certification from the Linux Foundation Certified Engineer (LFCE). Check out the Linux Foundation here.
3. Oracle Linux Certified Associate
Oracle has been around for a long time. They used to have a great system administration operating system called Novell, but those days are long gone. Moreover, I haven't researched much about it though, but you can read it on the Oracle website here.
4. GIAC Certified UNIX Security Administrator (GCUX)
Likewise, I haven't researched much about this company too, but it does offer UNIX certification. UNIX has many similarities and can be considered the grandfather of Linux.
On the other hand, UNIX does not have the same market share as Linux, especially in the desktop area. More information about this certification can be found here.
What experience is required to sit for the Linux+ certification?
Certainly, there is no specific requirement to sit for the Linux+ certification. However, CompTIA recommends at least 12 months of Linux admin experience and A+ and Network+ certifications.
Certifications are probably not necessary, and A +, in particular, may not be very useful. On Linux +, however, you need to know how to configure the network settings for a Linux installation, that is the most important. At least feel comfortable with the knowledge of Network + certification.
Even more important is to have strong enough knowledge of the Linux operating system. But especially within the shell, and conducting common tasks in Linux, such as scripting. It would be difficult to pass Linux+ without sufficient experience working within the operating system.
Also read: Stock Trading Course 2023: Learn To Trade The Stock Market with a Firm
Udemy tutorial on CompTIA Linux+ LX0-101 & LX0-102
LPIC-1 is a junior-level certification for Linux administrators. You should be able to perform maintenance tasks with the command line. Able to install & configure a workstation and be able to configure a basic network.
Certainly, the Linux footprint continues to grow. In addition to its significant presence in the server room, all the major public cloud providers offer Linux images as a way of speeding up virtual instance creation.
Large organizations such as:
All employ CompTIA Linux+ Powered by LPI-certified IT professionals.
IT professionals who earn their CompTIA Linux+ certification can receive the LPIC-1 from LPI. Earning a Linux+ certification is the beginning of a path. Which will lead you to advanced, distribution-specific Linux certifications such as SUSE Certified Engineer.
This course is excellently well done and went through all the features in Linux I learned in the previous course in great detail, as well as some I didn't know. Unfortunately, it's not up to date but that's to be expected as Linux is ever-evolving, but it's great for preparing yourself for the newer courses. – David Wiles
Free Udemy tutorials on CompTIA Linux+
Here, you will get some free courses on Linux on Udemy. But they focus more on the basics of Linux. Notwithstanding, you can get all you need from the paid version link above.
Conclusion on CompTIA Linux+ Certification
Obviously, the CompTIA Linux+ is not as well known as certifications by Red Hat, but it does provide value for aspiring Linux systems administrators at the beginning stages of their careers.
Linux + can be useful for those who want to learn Linux on the way to high-level penetration test topics. As before, Linux + is no longer a lifelong certification, which means that all new candidates have to renew their certifications in order to stay up to date.
Lastly and very importantly, Linux+ now requires only one exam instead of two but no longer has an affiliation with LPIC.
Frequently Asked Questions (FAQs)
What is the cost of the Linux+?
CompTIA currently charges $319 for the Linux+ exam voucher, however, there are other pricing options that include training materials as well, and some options even make a retake available if you were to need it.
What is the DOD compliance of the Linux+?
The Linux+ is not currently listed as a DoD 8570-approved certification.
Is the CompTIA Linux+ hard?
Before sitting or preparing for the Linux+, potential test-takers often want to know how difficult the exam will be.
So, is the CompTIA Linux+ hard? The Linux+ is an entry-level IT certification and therefore is not considered to be difficult for those with sufficient hands-on Linux experience. Other Linux-based certifications, such as some of those by Red Hat, are considered more challenging.
How well known is the Linux+?
The Linux+ is not as well known as other similar certifications, such as those by Red Hat, for example. The awareness and popularity of the Linux+ should improve in the coming years, however, as CompTIA has now revamped the certification and they no longer associate with LPIC.
What Job positions would one gain from the CompTIA Linux+ certification?
There are several positions in the IT and cybersecurity fields that would benefit from the Linux+ certification, most notably those that are responsible for Linux systems administration and cybersecurity professionals that use tools that are Linux-based. These positions include:
Systems Administrators – Those responsible for managing a Linux-based network environment.
Network Administrators – Those responsible for the network support of a Linux-based network.
Penetration Testers – Professionals working in penetration testing or ethical hacking.
Cybersecurity Analysts – Professionals responsible for the defensive protection of IT and system assets.
Cybersecurity Consultants – Those that provide cybersecurity-related consulting services.
My recommendations
Build A Social Network With Flutter And Firebase Free Download
Top 7 New Programming Languages To Learn In 2023
List Of Best selling ISO 9001 Training & Courses 2023|Free
The New Modern Javascript Bootcamp Course 2023|Free Download
The Complete Networking Fundamentals Course. Your CCNA start|Free
What Type of Insurance Blog is best to start in 2023?
The Definitive List Of Most Popular Courses On Udemy in 2023 [The Best]
Coursera Review 2023 |10 reasons to choose Coursera Courses now