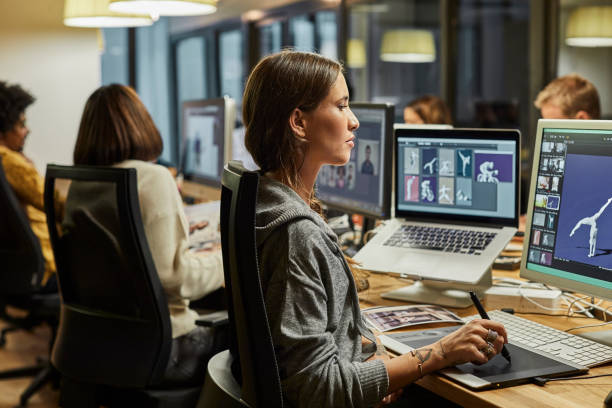 Whether you want to learn graphic design as a newbie or pro, there is likely to be a graphic design certifications online resource to help you achieve your goal. In this article, we have put together the best free online graphic design courses!
Learning graphic design doesn't have to be expensive, and you can definitely do it in your spare time with a few high-quality free online courses. In this post, we share the best free online graphic design courses to start your career with self-study.
What is The Use of Graphic Design?
Graphic design in many ways plays a major role in modern business and our daily lives, it is undoubtedly an important form of communication between a business and its audience or consumers. Whether it's a logo, brochure, website, signs, magazines, business cards, or flyers, they all use graphics to attract potential customers.
Companies hire graphic designers to design all of this and more. As the Internet covers all aspects of our lives, the role of graphic designers has grown to develop online advertising, social media posts, product sales pages, or a series of emails to increase service sales.
What Does The Graphic Design Certifications Course Online Cover?
Start your course by looking at the space of graphic design. Learn the concept of graphic design, as well as understand the visual relationships that can help you convey a direct and coherent message. Explore the various design careers that the industry has to offer, and work your way through the holy trinity of graphic design applications – Adobe Photoshop, Illustrator, and InDesign.
Whether you are an entrepreneur looking to develop your own marketing materials, a creative professional interested in expanding your skills, or a beginner in graphic design who does not know where to start, online graphic design courses can provide a variety of useful tools. and knowledge to take your work to the next level.
Below you can find everything from short online tutorials to in-depth classes, including free options that are ideal for improving your skills or testing a graphic design course before embarking on a major career change.
Also: 12 Best cheerleading colleges in 2023 | Full List
Free Graphic Design Certifications Online in 2023
Graphic Design Certification By Calarts
This course is available on the Coursera platform and is in great demand in the field of design. Best for those who already have at least a basic knowledge of graphic design. As part of the course, students will be able to learn to create more complex projects.
In this course, you will learn about design principles, design history, and how to communicate through image creation and typography. You will also learn how to work with interface design, animation graphics, and editorial design.
The fundamental skills you will gain in this course can also help you complete a major university project. In addition, all designs created as part of this course will be ideal to add to your professional portfolio.
Canva School of Design: Fundamentals of Graphic Design
Get a solid foundation in graphic design on this fast-paced, intensive course offered by Canva. The Canva Graphic Design Basics class consists of twelve small lessons, each of which covers the basic element of graphic design along with a task that puts your new knowledge into practice.
You will experience the taste of invaluable design know-how, defining the intended message, creating moodboards, color wheels and basic elements of typography, and much more.
This course is perfect if you don't have much time to invest in learning a new skill, or you just want to dive into the water to better understand how graphic designers think.
Graphic Design Masterclass (Udemy)
You will learn typography, color and layout theory, the right hierarchy of fonts, and balance to create stunning designs. A variety of topics and projects will be covered, including photo manipulation, magazine layouts, branding, and logo design projects.
Students will also be taught the basics of Adobe Photoshop, Illustrator, and InDesign, which are tools that every graphic designer should use and own.
There are many value-added sections in this course. One of these sections talks about the latest design trends, so you can be aware of what is relevant in the world of design. Another great recently added section called "Finding Your Niche in Design" is a research mini-class where Lindsay looks at some of the main categories of design and talks about the types of projects that each niche entails, as well as what you need. you need to learn to move on to this design.
  It is a hands-on specialization in graphic design and explores the basic elements of graphic design, color theory, imaging, publication design, and methods for creating effective layouts.  You will also learn about typography, the creative process, the importance of brainstorming, and how to discuss and critique design in a professional setting.  Upon completion of this certification in graphic design, students will be able to independently develop key creative projects, including business cards, brochures, advertisements, websites, and manuals.
All courses include recorded video lectures, self-graded and peer-reviewed assignments, and community discussion forums. This specialization is convenient for beginners and does not require experience in graphics and design. Anyone who wants to learn and research can take part in this program.
CreativeLive
This resource is suitable for both designers and artists. They have both paid and free courses that are ideal for both beginners and advanced users looking for personal development and the development of their design skills.
If you want to start learning for free, you can also do so. Free materials are available in the form of video tutorials. And you can reserve a place for their events live and on air. The CreativeLive platform has also decided to expand its free health and wellness classes for the creative community.
Other course materials are only available when purchasing the entire course. The full course is usually $30-50. But if you need the best option, you can sign up for $ 25 a month, which will give you access to an unlimited number of courses.
Creative Live will help you learn more about image editing, product packaging, and how to use color palettes and custom shapes to your advantage.
Graphic design bootcamp (Udemy)
The goal of this course is to quickly equip students with the right skills and programs to create stunning, high-quality designs. Because the course focuses on project-based learning, students are taught to create some of the most popular projects in the industry, such as their own logos, business cards, brochures, flyers, web graphics, and more. It also covers the basics of Adobe Photoshop, Illustrator, and InDesign.
Derrick Mitchell, a teacher of this course, based lessons and projects on his 18 years of experience in the design industry and strategically developed content to teach students exactly what they need to know to become successful graphic designers and use Adobe software.
As the software used by designers is constantly updated and changed, you need to be educated about new trends and tools. Derrick regularly updates the course material as new software updates are released. All students enrolled in the course will receive lifelong access to these new and updated course lessons.
Google UX Design Professional Certificate (Coursera)
Google has launched an online UX Design certification program on Coursera to help students prepare for entry-level work as a UX designers. In this program, you will learn the basics of UX design, how to conduct user research, and develop prototypes in tools such as Figma and Adobe XD.
This Google UX Certification Program is organized as a series of seven courses that learn UX principles, UX terms, and standard tools. These courses cover the entire design process from start to finish.
The program pays great attention to practical training. In addition to the video, the courses include several readings, assessments, and practical classes.
By the time students complete the program, they will have three portfolio projects that they can share with potential employers in their job applications.
Upon completion, students will have the opportunity to directly apply for a job at Google and more than 130 partners who are looking for talent from Google certification programs.
UX Designer Nanodegree Program (Udacity)
This UX Designer Nanodegree program teaches the basics of UX and how to conduct design research. After completing the program, you will learn to travel from concept to low-precision prototypes and from prototypes to high-quality UX projects.
It is ideal for those with some experience in graphic design who want to develop UX skills for applications and web design. You will also learn about the principles of interaction theory and how to create more user-friendly structures.
The program is organized into 3 modules that teach everything from the basics of visual design to UX design concepts, to how to turn low-frequency sketches into high-speed interactive projects with Figma, which are ready to transfer engineering tools.
These modules are followed by the main project, for which you will create an example that can be included in the UX-design portfolio.
The projects will give you real-world UX design experience and demonstrate your skills in researching, designing, and prototyping effective and visually appealing applications and websites.
Graphic Design Courses (Skillshare)
In the field of graphic design, there are many courses covering a variety of topics, such as logo design, 3D illustration, corporate identity design, Adobe Photoshop CC, Adobe Illustrator CC, Adobe InDesign CC, Affinity Designer, geometric grid designs, and more.
The theory and basic principles of graphic design are also discussed in several courses. Students can learn everything from basic design concepts to the best tools and techniques used to create beautiful graphic designs. There are courses for all beginners, intermediate and expert level.
The best part is that you can sign up for Skillshare for free to access all these courses. You can purchase their premium membership for full access to courses in their premium catalog, as well as useful features such as offline viewing.
Conclusion
In the world of creative graphic design, there are a few software that has dominated, and they are Corel Draw and Photoshop. But in recent times there has been a lot of software coming out in the market.
A lof content creators and creatives are now using Canva for their autonomous designs that are still worth looking at. The reason is that there are lots of templates to use when designing.
FAQs
What does a graphic designer do?
Graphic designers use design elements, such as shapes, colors, lines, and textures, to perform a variety of jobs. They create everything from posters and product packaging to logos and animations. Graphic design is an important part of the marketing and advertising efforts of a brand or company. Graphic designers, also known as communication designers, create visually appealing projects that support brand messages and evoke emotions in consumers.
What does a graphic design online course teach?
A graphic design online course will teach you the basics of design and help you develop your skills while working on projects. Graphic design courses will also introduce you to mentors and peers who will be invaluable as you grow your network. Most graphic design courses will cover topics such as color theory, typography, and layout, as well as graphic design tools and software.
What are the primary graphic design tools?
There are a variety of tools used by graphic designers. Most often, they work with software for graphic design. Adobe Creative Suite is the standard for most graphic designers. You'll want to learn about PhotoShop, Illustrator, and InDesign, as most design work can be done with these tools.
Recommendation