You must be wondering about what value is Udemy certification to your career CV or your resume? This content will help you get answers to all the questions you have been asking about Udemy certification value or certificates from Udemy.
Does Udemy issue a certificate after course completion?
Firstly, when you complete a paid Udemy course, you will receive a certificate of completion, which you can share with your friends, relatives, co-workers, and potential employers. Certificates of completion help demonstrate your accomplishments, but please note, Udemy is not an accredited institution, and as a result, the certificates cannot be used for formal accreditation.
Please note; Free courses and courses that only include practice tests and do not offer a certificate of completion.
When all the curriculum items of a course have been completed, a green trophy will appear above the course player. You will see a notification indicating the certificate of completion is ready. then you are free to click on the trophy to view the certificate.
Certificates certainly can be saved as a .pdf or .jpg file so that you can easily share your accomplishment. In addition, certificates can be shared on Facebook, Twitter, and LinkedIn directly from Udemy. The certificate will look something like this:
Certificates of completion can be accessed at Udemy.com and the mobile site, but not through mobile apps. If you've completed a course on the mobile app please log in to Udemy.com through a browser to access your certificate.
Udemy certificate value: Is Udemy certification good?
Certainly, certifications will give you value if they are the correct certifications.
However, not all certifications are accredited, which means that they are not verified by a known university or learning institution. Actual certifications are backed by an accredited institution.
This kind of certification is recognized by employers and is likely to help add value to your resume. If your certificates don't come from such recognizable sources, they won't be very helpful to your resume or CV.
Is an online certification equivalent to a degree/diploma? No! Is it equivalent to a classroom-based full-time course? No! To conclude, Keep learning! Get certified! But don't rely only on them – Harihara Subramaniam
To be frank, Udemy certificates are not recognizable by employers. The fact with Udemy is that they're not considered or recognized as an accredited institution. It means that courses will not count toward college credit or even continuing education units (CEUs).
Moreover, because Udemy enables or allows their content creators to sell for profit, most of the online instructors or teachers are not fully qualified. This doesn't mean all the courses are not worth the money paid.
Also, the Udemy rating system provides insight as to how beneficial courses are for students and the instructors' assessment.
Also read: Best Courses on Coursera Reviews |10 reasons to choose Coursera 2022
Do companies value Udemy certifications?
For Udemy certificate value, recruiters do not consider Udemy certifications a valid thing to include in the education section of your resume unless the certification is recognized both professionally and granted by an accredited institution or academy.
But that doesn't mean Udemy coursework has no place on your resume. It just means you need to translate Udemy certifications into a collection of skills that bring value to the hiring organization.
Educational credentials are one thing. The skills you picked up as a result of gaining those credentials are another, and that is what recruiters really want to see. The courses themselves may not carry much weight to a recruiter.
But a pattern of accomplishments that are the result of accumulating skills learned in Udemy courses, along with the dedication, tenacity, curiosity, and willingness to take responsibility for your own learning will carry a lot of weight.
Focus your resume on the actual skills and downplay where you got them. Demonstrate that you have applied what you've learned in Udemy to a relevant situation, and map your skills very carefully to those listed in the job description.
Try to include bullet point examples of projects you were able to complete because of the skills you gained from taking Udemy courses.
Generally speaking, Udemy certifications do not hold much weight with employers and recruiters.
However, if you have other educational experiences or certifications from a formal organization, make sure you include these first before listing any Udemy certifications you possess.

While you may feel like you shouldn't include these certifications at all, know that this can still be a good thing to do because they show that you possess a dedication to improving your craft or enhancing your professional skills.
Meanwhile, most recruiters will tell you that they value continual learners rather than those who do not pursue additional opportunities.
Are certifications from Udemy helpful in gaining employment?
I wouldn't put too much importance on the certificate that you get when you complete a course on Udemy. The real value you get from the course is from the skills you should learn by taking the course.
Most noteworthy, anyone can create a course on Udemy, so there really isn't any governing body that sets standards for the courses or certificates.
You could create a course titled "Become a Financial Analyst," just have 30 minutes of video, and then give a certificate of completion at the end of the course. It would be completely useless.
But, the courses on Udemy are really helpful!
Udemy can certainly help you improve your skillset and increase the value you can provide to a potential company – improving your chances of getting hired. However, this isn't due to their certification, but simply a result of becoming better in your field.
This is largely due to the nature of the platform. Udemy courses can range from being far more valuable than a university course to absolute pieces of garbage.
And unless the employer has taken it themselves, or is willing to invest time looking into it, they have no way of knowing that. In the end, the actual skills you learn from a Udemy course can be enormously valuable – and can help you secure a job even faster.
Also read: 12 Best free Coursera Java programming Courses with Certificates in 2021
How to add Udemy certifications to LinkedIn
Your certificate on Udemy isn't the easiest to find, tucked behind easily overlooked buttons. We'll then guide you through sharing that certificate on LinkedIn.
To locate your certificate, start at the My Learning section of your profile. Here, you'll see all of the courses you've ever enrolled in on Udemy.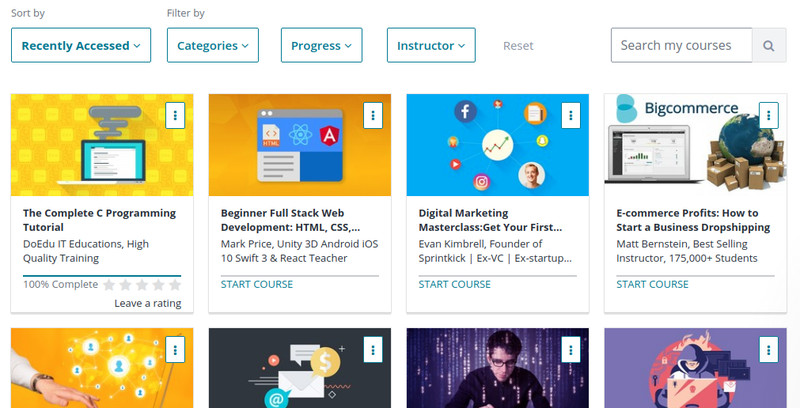 Click on the course for which you want to retrieve a certificate.
On the course page, you'll find two buttons that can lead to your certificate. The first one is located in the upper-right corner of the course page. This button is labeled "Get certificate". Clicking it will bring up a drop-down menu. From here, click another "Get certificate" button.
On mobile devices, this button is unavailable. If this is the case for you, then scroll past the lecture video to the course dashboard section. From here, select the "Overview" tab and locate the "Certificates" section. Click the button labeled "Udemy certificate."
Once you've landed on the certificate page itself, you'll see your certificate front and center. There's also a button that will allow you to download this certificate (as either a PDF or jpg image). Choose PDF if you wish to print a copy of your certificate or save it for your records.
By now, you may have noticed a "Share" button that you may have noticed. We will not use this. While this button has an option for sharing to LinkedIn, it creates a social media post. What we want instead is to add your certificate to your LinkedIn profile.
Doing so makes your achievement appear beneath your work experience. This makes it more visible to other professionals, including recruiters and prospective employers.
Having trouble locating your certificate?
The "Get certificate" and "Udemy certificate" buttons may be grayed out or unavailable. There are two possible reasons for this.
The first is that the course does not offer certificates. This is very uncommon.
The second case, more common, is that you've yet to complete your course. Note that certificates are only issued when your course progress indicates 100%. A skipped lecture, incomplete assignment, or unpassed quiz will prevent you from retrieving your certificate.
Before contacting support for help, make sure you see 100% progress from your course dashboard.
On your LinkedIn profile page
Now that you have your certificate in front of you, it's time to log in to your LinkedIn profile. Navigate to your profile page.
1. Near the top of your profile, click the Add Profile Section button. Then select Background and click the "+" icon next to Licenses and Certificates.
2. Scroll down to the Licenses & Certifications section. Click on the "+" icon to add a new certificate.
3. A box will pop up allowing you to enter your certificate details. Enter the name of the certification name (typically, the course name).
4. For Issuing Organization, begin typing "Udemy" and select Udemy when it appears.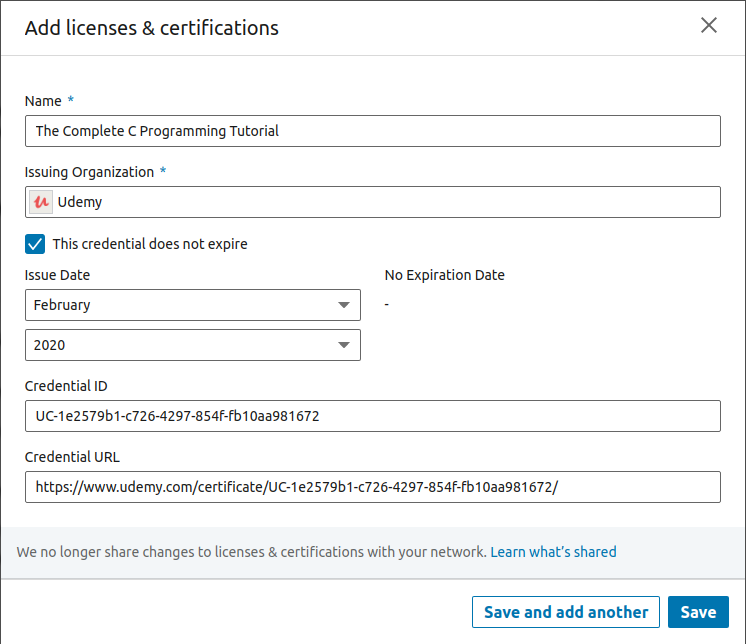 5. For the Credential ID field, enter the lengthy certificate number found at the bottom left-hand corner of your certificate. To save yourself some typing, you may choose to copy and paste the same number from the very end of the URL to your certificate page. If you do so, make sure to leave out any forward slashes ("/").
Lastly, copy the link to your certificate to the Credential URL field on LinkedIn. Note that the URL is accessible to anyone on the Internet.

7. Hit Save when you're done or Save and add another if you have more certificates to add.
That's it! You're all set. Colleagues, prospective employers, recruiters, investors, etc. will now be able to see your new certificate.
LinkedIn profiles having Udemy certifications sampled
Just in case you're not getting the explanations, this video link below shows you how to add Udemy certification to your LinkedIn profile or account.
Conclusion
Not only talking about Udemy certificate – Be it any certification that you obtain online, it applies to all. Is an online certification equivalent to a degree/diploma? No! Is it equivalent to a classroom-based full-time course? No!
The above two points are the shortcomings of online certification. The Internet has become so accessible to most of the people in urban areas and these online education platforms are throwing away a ton of courses for a cheaper price as well.
From an employer's point of view, certification shows that :
Such candidate or employee has an interest in the topic and probably passionate to improve his skills.
The candidate is willing to be a continuous learner.
The candidate has a knowledge base and has been certified by passing the exam on a specific topic.
Sometimes, these certifications are useful as a fresher and also for those early professionals who are looking for a line change.
You may need to see this Skillshare vs Udemy comparison on certification value.
To conclude, Keep learning! Get the skill! Get certified! But don't rely only on them!
See how to download the Udemy free courses here. But getting a certification along would be better. Visit Udemy now for certification!
You can use the comment section to share your thoughts on Udemy certification generally. We might use it for a quote when updating.
FAQs
Do all courses on Udemy offer certificates of completion?
No. Currently only paid, approved courses offer a certificate of completion. Free courses and courses that only include practice tests do not offer a certificate of completion.
If you have enrolled in a free course prior to March 17, 2020, you will retain access to your certificate of completion for those free courses only.
I finished my course but I still can't access my certificate of completion. How come?
In order to receive your certificate of completion, each curriculum item must be marked as complete. Double-check the course curriculum in the course player to make sure each lecture and course item has a checkmark beside it and is marked as complete.
For steps on how to manually mark a lecture as complete, please click here.
Is a udemy certificate worth anything?
To be frank, Udemy certificates are not recognizable by employers. The fact with Udemy is that they're not considered or recognized as an accredited institution. It means that courses will not count toward college credit or even continuing education units (CEUs).
Are udemy certificates worth mentioning in a CV resume?
Yes, but it should not be the main thing. Honestly, Udemy certificates are not so valuable by employers but Udemy courses are just for improving and enhancing your knowledge and expertise in any relevant field. Udemy certificate issued by Udemy may not necessarily get you a job, but it will give you an edge over your colleagues.
What is the difference between Udemy and Coursera?
Udemy is better for someone with a more relaxed learning style that wants to go through the course at their own pace. While Coursera is more of a traditional course format and timeline.
Additionally, Udemy focuses more on short-term courses that students can use to learn specific skills like photography or basic computer skills. Anyone can create a Udemy course. While Coursera takes a more academic approach, the majority of its programs are offered by professors from actual colleges and universities.