Have you been one of those who are finding it difficult to choose between Udemy and Coursera? Worry less, this Udemy vs Coursera comparison will give you all you have been wanting to know about these two e-learning giants.
Here, I will be giving you an honest review of each of the MOOC platforms. Additionally, in this Udemy vs Coursera comparison, you will also see both Coursera and Udemy competitors.
Similarly, you will get to know the best Udemy and Coursera alternatives just in case you need something different. You know the popular saying that states; "variety is the way of life".
I have done reviews of many MOOC platforms and I know very much how these online course platforms rank.
For someone who is not like me, he or she may want to know the one to choose for a better user experience.
While some may want to know which one has a better offer and value on money spent.
Probably, those are the reason you landed on this Udemy vs Coursera blog post. But I want to assure you as you read through, it may be a little long one, but in-depth.
Then, you should have great knowledge about the two of the most popular e-learning platforms thus far.
Just before we go straight to the Udemy vs Coursera comparison, permit me to show you some basic facts about both platforms.
You can skip it if you already know about their history.
About Coursera
Coursera is a Massive Open Online Course (MOOC) in the united states, founded in 2012 by Stanford University Computer Science professors Andrew Ng and Daphne Koller.
Offering stand-alone courses, Specializations, Degrees, Professional Courses, and master's degree courses as well.
However, Coursera works with universities and other organizations to offer online courses, certifications, and degrees in a variety of subjects, such as;
Engineering
Data science
Machine learning
Computer science
Digital marketing
Humanities
Medicine
Biology
These categories fall 3,000+ courses giving students a very broad range of information & experience in different fields.
Ng and Koller offered their Stanford courses online in the fall of 2011 and left Stanford shortly thereafter to start Coursera.
Princeton, Stanford, the University of Michigan, and the University of Pennsylvania were the first universities to offer content on the platform.
Since then, the services have expanded to include specializations – collections of courses that teach skills in a particular subject – as well as degrees and a human resource development product for businesses and government organizations.
In July 2020, the company announced that it had raised $130 million in Series F funds and updated its valuation and net worth to $2.5 billion.
Also read: Best Courses on Coursera Reviews |10 reasons to choose Coursera in 2022
About Udemy
Udemy is also an e-learning platform that houses lots of courses for students to improve themselves.
There are over 130,000 courses on the Udemy platform, with new courses being added monthly.
They are recognized by some as the best online learning platform. But that will be proven by the time we are done with some deep review about them.
Udemy has courses on practically anything or topic.
With the category of courses from;
Web development
Personal development
Design
Finance & accounting,
IT & software
Marketing
Lifestyle
Photography/video
Health & fitness
Music
Teaching/academic.
In 2007, Udemy (you-de-mee, a portmanteau of you + academy) founder Eren Bali built software for a live virtual classroom while living in Turkey.
He saw potential in making the product free for everyone and moved to Silicon Valley to found a company two years later.
The site was launched by Bali, Oktay Caglar, and Gagan Biyani in early 2010.
By February 2010, the founders tried to raise venture capital, but the idea did not impress investors and they were rejected 30 times, according to Gagan Biyani.
In response, they began developing the product and launched Udemy, "The Academy of You," in May 2010.
In just a few months, 1,000 instructors had created around 2,000 courses and Udemy had nearly 10,000 registered users.
Fast forward to February 2020, Udemy raised $50 million from a long-time partner in Japan, Benesse Holdings, Inc., and also announced a $2 billion valuation.
That's all for the brief history of the two online learning platforms.
Now, to continue on the Coursera vs Udemy comparison, let me give you a quick heads up on both platforms.
Also read: Udemy Certification Value in 2022 | Udemy Certificate on Job Outlook
Udemy vs Coursera – An Overview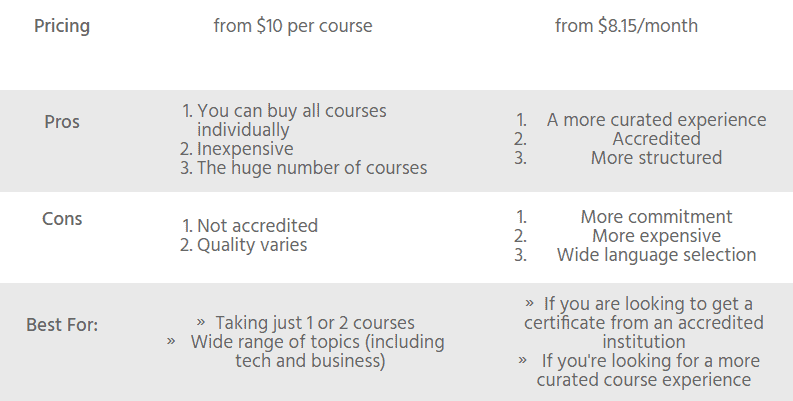 Udemy and Coursera are both popular online learning platforms without a doubt.
However, they offer quite different types of online education and experience in general.
This means that there may not necessarily be a clear winner of the two here.
In fact, it will depend on your own need and what you want to get from online course providers.
Meanwhile, Udemy focuses more on short courses that students can use to learn specific skills, such as photography or basic computer skills. Also, anyone can create a course on Udemy.
On the other hand, Coursera takes a more academic approach and most of its programs are offered by professors from real colleges and universities.
But then, both Udemy and Coursera have their own advantages, depending on the type of information you need.
Notwithstanding, you may see this Coursera review for more information. Similarly, you can see this comparison of Udemy alternatives of which Coursera is among.
What is the main difference between Udemy and Coursera?
Udemy offers a wide variety of courses on just about any topic you can imagine, while Coursera is more focused on academic topics.
Courses on Udemy can be taught by anyone and tend to be cheaper and take less time to complete, but they don't offer the in-depth experience, accreditation, and tutoring that Coursera does.
Udemy courses are taught by professionals in their field, but Coursera courses are taken by university lecturers and professors.
Coursera vs Udemy – The Costs
Udemy's best-selling courses tend to be "on-sale" almost all the time.
However, most courses have a standard price of $199, but they usually have a reduction of around 95% at $10 per course.
So while there are more expensive courses on the platform, you can almost always find a best-selling course on the subject you're interested in for $10 – $15.
You may try that now for the discounted price here.
Although, when you buy a course through Udemy, you get lifetime access to the material.
While on the other hand, enrollment in Coursera is free! Additionally, the platform offers over 1,000 courses that you can audit for free.
However, you will need to pay to access specific resources, such as assessed assignments, orientation, and certificates.
But if you are only looking to access course readings, video lessons, and discussion forums and are not necessarily looking to earn certificates that you can include in your resume or CV, then the platform offers a lot of free value.
Also, individual courses and Specialization on Coursera have variable costs.
You won't be able to see pricing information unless you're logged into Coursera. But then, you still need to click the blue enroll button before the price appears.
Specializations typically contain multiple courses and are subscription-based.
They generally cost between $40 and $80 a month. Individual courses generally charge a one-time fee that gives you access for just 180 days.
Coursera also offers the ability to apply for financial assistance if you cannot afford the course fee.
Bottom line on cost: Coursera vs Udemy which one is best
So, my question is, which platform has better pricing and value for money or a good ROI (Return on Investment)?
Basically, I feel it depends on the length or deep you want to learn. Also, how much time do you have to spend on online courses each month.
Udemy is probably cheaper if you are taking fewer courses or want to work at a slower pace or your comfort time.
But if you want to learn more academic material, Coursera may be the better option here for you.
Lastly, on Udemy vs Coursera based on cost, most people looking to upgrade themselves with a skill tend to go with Udemy.
While those looking to get more out of a particular academic subject go for Coursera irrespective of the pricing or cost.
Over to you now, which do you prefer, Udemy or Coursera. Make your choice based on what you need, not really the price.
Next, we'll go over to see the kind of courses and subjects both platforms offer. Is it of great quality or just junk of worthless materials as we see in some MOOC platforms?
As we now have full knowledge of the pricing and cost, knowing what we are purchasing or enrolling for, is a necessity.
Also read: 27 Best Sites Like Udemy for Online Learning | Udemy Alternatives
The Subjects and Topics Hosted
This Udemy vs Coursera comparison wouldn't have been complete if I choose to ignore this aspect that is more important.
Having a good background of their course catalog will enable you to make the choice of platform based on what you want to learn.
You can recall above when I stated some course categories these two giant e-learning platforms offer. But now, I will elaborate on them more.
Udemy
Udemy has courses available on almost anything you could think of learning online. Without a doubt, their course catalog is the best and largest around.
But are their courses the best? We'll know that as we go on.
Udemy's course category includes:
The Arts
Business
Entrepreneurship
Health & Fitness
Language
Games
Music
Photography
Technology
Yoga
And much more…
Udemy courses tend to focus on more hands-on and practical applications of the topics covered.
If you are looking to learn a specific skill, their courses are great at providing step-by-step instructions to achieve a goal.
Personal development is the best your boss or organization could require from you. Udemy gives you that opportunity at a cheaper rate.
Why not visit Udemy now and start improving yourself for a pay raise or promotion at your working place.
Coursera
While Coursera has more of an academic focus on its subjects and courses. 
As I told you earlier about them, they offer stand-alone courses, Specializations, Degrees, Professional Courses, and master's degree courses.
Moreso, Coursera works with universities and other organizations to offer online courses, certifications, and degree programs in strategic categories such as;
Arts and Humanities
Business
Computer Science
Data Science
Life Sciences
Social Sciences
Technology
Personal development
Web development
With this Coursera course category, you are in for a great learning experience as a college student.
Owing to the fact that they collaborate with top universities in the world to bring you a good learning experience. World-class kind.
However, you will see more on this when we get to the certification comparison of Coursera vs Udemy.
Meanwhile, why not start with Coursera professional courses today?
Overall on Subjects and Topics
Udemy has more subjects to take as a learner and they also boast the largest course catalog in the MOOC business. With over 130,000 courses online, and hundreds being added monthly.
But like I asked earlier, are their courses the best as well? We'll find out soon when we get to the course quality and valuable content stage.
While on the other hand, Coursera's topics target college students which is not good for someone who is done with college.
But they also chip in with little creative and personal development courses in case you are not in college. With 3, 900+ courses and specialization, you will surely find a suitable course for yourself.
I guess you are now seeing some great differences between these two? Keep following up to know more before enrolling.
Udemy vs Coursera – Which platform offers great course quality?
We have come to an understanding of the course both platforms offer.
Now to the question I asked earlier, which I told you we'll see about that when we come to this stage.
I will start with Udemy here.
Are Udemy courses worth it?
Yes, but to an extent. Udemy courses can be so great that you would want to pay all the money without the promo price. Honestly!
But then, there are courses you will see on Udemy and you will ask yourself, "is this Udemy or a new platform I got myself unknowingly"? It can go from being world-class to a below-par course that has no value.
Why this occurs on Udemy is that anyone can create a course on its platform. This reflects in the courses having some low quality based on information covered on a particular topic.
It can also go from 30 min to 22 hours duration of the self-paced courses.
The video quality of some courses on Udemy is not really world-class. But the majority of the courses are created in HD quality.
We'll look more into the Instructors that handle courses on each platform to know the platform that has the better side.
Overall, Udemy possesses good courses on most occasions. You should just utilize the filtering available to help you streamline the courses to suit you.
Also, make sure you take your time to read the reviews of the courses by the students before enrolling.
Are Coursera courses worth it?
Yes, I would say. Coursera courses are mainly focused on a particular subject or topic which will be deeply taught. This does not mean you can't find a garbage course on their platform.
But from my experience so far with Coursera, I have the assurance that most courses on its platform are of great quality.
The video quality of their courses is top-notch as well. That is why the courses on Coursera are worth it. You get HD video quality in most courses which will enhance the learning experience.
For the duration, Coursera courses can be taken in 4 weeks – 6 weeks for the single courses. While specialization can take you months.
Overall, Udemy has good course material, but I feel that Coursera has more to offer based on this aspect.
So, If you want to get high-quality course material, Coursera should be your bait. Although, Udemy is not left out anyway.
Also read: 12 Best free Coursera Java programming Courses with Certificates in 2022
Udemy vs Coursera: Who Are The Instructors?
While some Udemy courses are taught by experts and highly recommended, anyone can create a Udemy course.
This means that there are many variations in the quality of the course and you really need to do your research to make sure that you are signing up for a reliable course.
To create a Udemy course, simply create an account and watch an orientation video on the basic course guidelines.
You may end up taking a course offered by a book author, chef, entrepreneur, lecturer, or some other type of specialist or professional.
But you can also see the courses offered by people who simply collect information from the Internet and develop their own basic course.
It is important to do your due review before taking a Udemy course. Also, look up the name of the course instructor before paying for it.
Meanwhile, Coursera works closely with colleges and universities. Its courses are carefully controlled and taught by experienced academics.
This means you have access to professors from the best universities and colleges around the world.
If you choose a random instructor from Udemy and Coursera, Coursera is more likely to have credentials, such as a Ph.D., which gives them more authority.
However, if you are only looking to learn a basic skill, such as using Excel, you may not be interested in your instructor's qualifications, as long as they can provide you with the information you need.
In that case, a Udemy instructor is perfectly capable of meeting your needs.
Udemy vs Coursera: Time Commitment
When you purchase a course through Udemy, you get lifetime access to that material.
This means that you can actually work at any pace you want. The courses are very self-guided and it is up to you to complete them in time.
Some Udemy courses are more in-depth. But some have only a few hours of video lessons and written content to read and can be completed in a single afternoon if you are eager to learn.
Coursera is more like what you would expect from an online course than you would at a university or formal institution.
Courses start and end on specific dates. There is a timeline that you need to follow. And the courses are not there for a lifetime.
If you need some pressure and responsibility to complete classes, taking a course on Coursera is a good option.
But if you're a self-motivated learner, then taking a Udemy course should be great.
If you just want to learn a specific skill quickly, Udemy is a good option. But if you really want to master a topic and dig deep, that's where Coursera excels.
Coursera vs Udemy – Which has a valuable certificate?
If getting valuable certificates is the main reason you're going for online learning, Coursera is the clear winner over Udemy.
Although Udemy offers some courses on more academic subjects, it cannot offer any type of accreditation of academic institutions such as universities that Coursera is capable of offering.
Udemy courses may offer a certification to complete a course. But whether a future employer will value the certification is another question. In fact, Udemy certification is not accredited.
Coursera programs are more structured with graded assignments, access to instructors, and more legitimate support from a real college or university.
As a result, a certificate from Coursera will look much better on your resume than one from Udemy.
The main reason is that it comes with the name of an institution like Princeton, Yale, or Cambridge that will guarantee any future interviewer that their credentials are legitimate. Thus, being accredited.
Coursera courses and specialization certificates come in a digitally shareable format.
Not only can you print copies to put in your portfolio, but you can also put them directly on your LinkedIn profiles.
Therefore, if you are looking to improve your CV or resume, Coursera is undoubtedly the best option.
This is not to say that Udemy courses do not offer great value either. But they are best considered for the practical skills you'll learn from the courses, rather than looking better than the Coursera certificate on your CV.
See this our blog post if you may want to know more about Udemy certification value on job outlook. Also, it will show you how to add your certificate to your LinkedIn profile.
Also read: Udemy vs Udacity 2022 | Honest Review & Comparison
Coursera vs Udemy: Best Courses
You have a basic idea of the types of subjects and topics each of these online course sites offers. But here are some examples of specific courses to give you a better idea.
Just in case you need a course to start with, these courses below may be of help as they are the best you can find on each platform. One that can give you value for money spent.
Best Coursera courses
Cloud Computing – University of Illinois at Urbana-Champaign
English for Career Development – University of Pennsylvania
Organizational Design and Management – HEC Paris
Buddhism and Modern Psychology – Princeton University
Epidemiology for Public Health – Imperial College London
Data Structures and Algorithms – University of California San Diego
Optical Engineering – University of Colorado Boulder
Graphic Design – California Institute of the Arts
Udemy best courses
Microsoft Excel – From Beginner to Advanced
The Complete Digital Marketing Course – 12 Courses in 1
Complete Python Bootcamp: Go from zero to hero in Python 3
The Complete Web Developer Course 2.0
iOS 13 & Swift 5 – The Complete iOS App Development Bootcamp
AWS Certified Developer
The Complete Ethical Hacking Course: Beginner to Advanced!
Ultimate Photoshop Training: From Beginner to Pro
Microsoft Excel – Advanced Excel Formulas & Functions
iPhone Photography- Take Professional Photos on Your iPhone
As you can see in the course examples of both platforms, they offer quite different kinds of courses in their unique ways. So, get started with any course above and keep learning.
Note: Do not forget to review them before you enroll.
Also read: The Definitive List Of Most Popular Courses On Udemy In 2022
Udemy vs Coursera Summary – Pros & Cons
The Udemy advantages
#1. You can buy all courses individually
When you purchase courses through Udemy, you pay for each individual course only once to get lifetime access.
This gives you more freedom to choose the topics that interest you the most. You also don't get stuck with specializing in required courses that you can't cancel.
Since access to the course never expires, it is very flexible and low-commitment, allowing you to work at your own pace.
#2. Courses are inexpensive
Udemy courses are cheap to start with, but they almost always offer discounts as well. For any popular topic, there is usually a $200 course with a $10 to $15 discount.
This means that you can purchase courses even if you will be completing them in the future. It is not a great loss if you never get to the course material.
#3. The large number of courses
Since Udemy is open to anyone creating courses, there are a large number of courses available. Currently, there are more than 130,000 different courses and over 15 million students using Udemy.
In addition, some of these courses are free. Whether you want to learn about graphic design, music, computer programming, or any other wide range of topics, there is probably a Udemy course on the subject.
Udemy disadvantages
#1. Not accredited
Udemy courses offer certificates upon completion of paid courses. But most likely future employers will not give them much weight compared to those of universities and official institutions.
Udemy courses are best for learning a specific skill on your own, not basically for CV upgrades.
#2. Quality varies
Since Udemy is open to everyone to create courses, the quality of the courses can vary widely. Some are not very comprehensive and detailed, and you may feel cheated, even for the $10 price of some courses.
That is why it is important to do a little research on the course instructor and observe the reviews. Although the platform offers some free courses, in most cases they basically act as ads or upsells for paid products.
Coursera advantages
#1. A more curated experience
Coursera courses are taught by some of the most respected professors in the world, from universities such as Stanford, MIT, and Yale.
Therefore, there is no doubt about the quality of the education that you will receive through the platform.
#2. Accredited certification
Certificates earned through Coursera will look really impressive on your resume when you go for an interview, unlike a course you take on other platforms like Udemy.
Coursera courses are more academic in nature compared to many other online course platforms.
#3. More structured
If you need deadlines and set tasks every week, Coursera is a good choice for you. Taking part in a structured online course will provide more responsibility.
Although some people may see this as a disadvantage, depending on their personal learning style.
Coursera disadvantages
#1. More commitment
Coursera specialization programs generally require 4-5 months of study to complete. If you want to pursue a degree program through the website, you may be looking for years of online courses.
Even individual courses take 4-6 weeks to complete. There is also one more requirement in terms of graduate assignments and participation.
#2. Too expensive
Individual courses through Coursera are more expensive than those offered through Udemy in most cases. But things get particularly costly when you need to pay for a specialization subscription for several months.
#3. Too many language selection
Coursera offers courses from universities and organizations around the world.
So whether you speak English, Spanish, French, Chinese, Russian, or various other languages, there is probably a course specifically created in your language.
Otherwise, a large number of courses offer transcripts in other languages.
Overall
Udemy is a great platform for choosing inexpensive or cheap courses from a large catalog.
But if you just want to learn a new skill like Photoshop or Microsoft Excel, it can be a great option.
However, Coursera is a better option if you are looking for a course experience hosted by an accredited institution. In all, your decision counts.
Also read: 11+ Easy Ways On How To Make Money From Home Online In 2021
Udemy and Coursera Alternatives
There are lots of Udemy and Coursera competitors you can turn to for online learning. So, I will be listing some of the best Udemy and Coursera alternatives.
#1. edX
If you're looking for alternative sites for online education similar to Coursera, there aren't many similar platforms currently available.
But edX is the platform that is similar to Coursera more than Udemy. This is to the fact that edX also offers accredited courses from prestigious institutions like MIT, Harvard, Australian National University, and many others.
#2. Udacity
Udacity offers a combination of free and paid programs. At the moment, they offer around 200 free courses to choose from.
But Udacity's main claim to fame is its paid nano degree programs. These programs teach a specific skill set, usually for a period of one to four months.
Udacity used to offer courses for about $199 each. However, it appears that the price of courses has increased dramatically in the past two years and many of its paid programs now cost around $500 a month.
So, in comparing Udemy vs Coursera vs Udacity, they are a bit similar but Udacity tends to focus on tech-related topics more.
See more from this Udemy vs Udacity comparison.
LinkedIn Learning uses a monthly subscription model.
Premium access to the platform costs $30 a month, or you can get a discount when you sign up for an annual subscription.
LinkedIn Learning is primarily aimed at working professionals. It offers video lectures with the aim of providing real practical skills to improve your daily work performance.
Many of the topics are business lessons you would love. Such as How to master Microsoft Excel, employee relations, customer service, social media marketing for small businesses, and so on.
Do you want to know more about LinkedIn Learning? Check here.
MasterClass is one of Udemy and Coursera alternatives.
It gives you the opportunity to learn directly from famous celebrities and industry leaders.
These people are world-class guys in what they do.
MasterClass offers several courses for $90 each. Or you can pay $180 per year for a subscription to access its entire course library.
If you think you may be interested in more than one topic, I definitely recommend paying for the subscription. It's a bargain for anyone.
MasterClass has far fewer courses available than those offered by other popular platforms, such as Skillshare or Linkedin Learning.
#5. Skillshare
When considering Skillshare as an alternative to Udemy or Coursera, it has more similarities of Udemy than Coursera, just as edX is to Coursera.
Skillshare courses are taught by industry professionals and tend to be very practical in terms of their material.
This is because Skillshare was first built as a creative MOOC platform. It was later they delved into various topic areas to reach more students.
There is a great focus on learning by doing, instead of just observing and absorbing the theory as in other e-learning sites.
But the downside of Skillshare compared to Coursera and Udemy is that you won't get a certificate after each course. It's that bad.
I hope that should change because the course projects you show on the platform can never be compared to a certificate. Even if it's not accredited, students can value it.
See more in this Skillshare full review.
Conclusion
I believe, this Udemy vs Coursera comparison has given you a new fact about both platforms.
Again, you should know that when choosing between Udemy and Coursera, it really depends on what you want from an online learning platform.
Coursera is more academic in nature. It's more like doing a formal college or university program online.
If you want to earn a certificate from an accredited institution to include on your resume or curriculum, Coursera is the obvious choice.
However, it takes more commitment since each course has specific start and end dates. As well as graded assignments and participation required in between. 
Udemy is a great option if you are new to a topic and just want an idea, or if you just need to acquire a specific skill.
For example, if you want to learn a musical instrument, or start computer programming.
Check out the list of most popular courses on udemy. I think it will help you with Udemy's best.
Try Coursera if you feel otherwise. Enrollment is free!
Finally, Udemy is best for someone with a more relaxed learning style who wants to take the course at their own pace. While Coursera is more of a traditional course format and schedule.
I appreciate you for finding your way here and reading through… Please drop a comment on this Udemy vs Coursera to tell me what you learned or your opinion on these two great MOOC platforms.
Cheers!
Frequently Asked Questions (FAQs)
Coursera vs Udemy which one is best?
Coursera is best for you if you are looking for more academic courses, while Udemy is best for you if you want to learn a skill or take just a course and move on. So it depends. But Coursera certificate is accredited while Udemy is not.
How good is coursera?
Coursera is as good. They are worth the money spent on their platform due to the high and in-depth courses and accredited certificates.
What are the main differences between Udemy and Coursera?
Udemy offers a wide variety of courses on just about any topic you can imagine, while Coursera is more focused on academic topics.
Courses on Udemy can be taught by anyone and tend to be cheaper and take less time to complete, but they don't offer the in-depth experience, accreditation, and tutoring that Coursera does.
Udemy courses are taught by professionals in their field, but Coursera courses are taken by university lecturers and professors.
Our recommendations
The Definitive List Of Most Popular Courses On Udemy In 2022
Skillshare vs Udemy 2021 – Honest Reviews & Comparisons
Best Courses on Coursera Reviews |10 reasons to choose Coursera in 2022