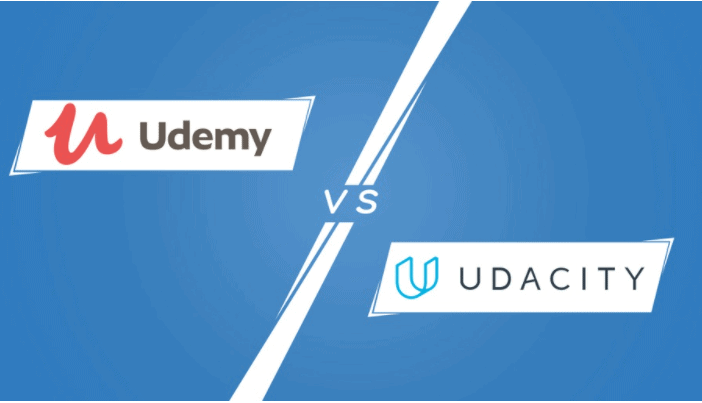 Udemy and Udacity are certainly among the biggest MOOC platforms for learning almost anything online. However, both e-learning platforms offer different course topics and also have their uniqueness and peculiarity. Consequently, this Udemy vs Udacity comparison will give you an in-depth analysis of both online learning platforms.
Many people have their views and assertions about these two popular e-learning platforms. But here, I will be dishing out some of the very hidden things concerning your favorite online course providers.
Additionally, I will be making an honest review of this Udemy vs Udacity comparison. So, have in mind that you will be getting it as it is.
This will, as a result, give you a full overview of the platform that suits your learning at the moment.
Meanwhile, in this Udemy vs Udacity post, I'll discuss Udemy and Udacity, how much they cost, what kinds of courses each one offers, and the pros and cons associated with them.
What are The Main Differences Between Udemy and Udacity?
Udemy offers shorter, lower-cost courses on a variety of topics that anyone can produce.
On the other hand, Udacity offers expanded Nanodegree programs in collaboration with leading industry partners and generally focuses on technology-related topics.
Also, Udemy operates on a pay-per-course approach ($10.99 to $ 199.99). While Udacity offers Nanodegree courses and one-time fee courses that cost $399 a month and takes 2-6 months to complete.
However, Udemy offers more courses and subjects, while the strength of Udacity lies in the quality of the course.
Which Platform is More Popular?
Popularity might not really be a criterion to choose one provider over another, as popular products or services are sometimes not always the best option.
However, this is a great way to assess the market and where each e-learning platform is placed.
As you can see from the graphic above, there is a clear winner in this popularity contest. Udemy is clearly more popular than Udacity.
Founded in 2010, Udemy is arguably the most popular e-learning community in the world. To date, more than 300 million students have joined the platform.
It is available in 65 languages and offers more than 150,000 courses.
However, Udacity was founded in 2011 when two Stanford instructors decided to offer one of their subjects to the world for free.
Since then, this privately-owned platform has grown: 12 million users have signed up. It employs more than 300 people, and more than 100,000 students have completed one of its programs.
Udemy vs Udacity – Overview
Udemy is what you would probably think of when imagining online course platforms or providers.
It is a platform where anyone can register as an instructor and share their own course for purchase. Your courses are not accredited.
While you can earn a certificate of completion after completing a Udemy course, it doesn't necessarily look awe-inspiring on a resume for potential employers.
Since anyone can sign up and create a Udemy course, the quality can vary significantly between different teachers and classes. Consequently, courses on the platform are also usually relatively short.
In contrast, Udacity is very different when it comes to online education. They are best described as a MOOC (Massive Open Online Course) provider.
They have partnerships with universities, industry partners, and other institutions, and they can offer something they call Nanodegrees.
These are certifications that show that you have completed certain courses and are proficient in a certain area.
Strength of Each Platform
As a MOOC platform, Udacity offers a limited number of courses that are primarily focused on technology and computing.
In addition to its more structured Nanodegree programs, Udacity offers nearly 200 free courses that students can work on at their own pace.
Their Nanodegree programs offer an online course experience similar to what you would expect from a university, including video lectures, online assignments, and discussion forums.
Some nanodegrees can be completed in less than a month, while others can take three months or more.
In general, Udemy is best suited for self-paced learning if there is a particular skill or lesson that you want to take out of a course.
Lastly, it's about the bottom line, not necessarily getting credentials.
Udacity offers a more comprehensive curriculum that allows you to truly master a specific subject.
Ease-of-Use & Interface – Udemy vs Udacity
Signing up for Udemy is easy. Just add your email address, password, and name, and you're done. You will need to review (and confirm) the confirmation email Udemy sends you.
While the registration process with Udacity is similar. You must enter your first name, last name, and password for the email address and set your date of birth.
However, you can also register using your Facebook or Gmail account if you prefer.
Backend & Design
Udemy
After registering with Udemy and navigating the platform, you will find that the user interface is well-structured and easy to follow.
Although, it's very useful to create your own categories to manage different courses on the same topic, for example, to keep Photoshop courses in one workspace or your photography courses in another.
Using the course interface is also easy and fun. They have one of the best video players I have ever seen.
You can change the speed of the video, activate subtitles, adjust the quality, or even take notes at certain moments of the video.
The way the lessons are organized and presented in the menu on the right is very helpful (see image above). You can check and uncheck each one to see the progress of your course.
You can use Udemy from any modern internet browser on your desktop or laptop or use the app for Apple or Android for free.
Udacity
Similarly, Udacity also has a very easy-to-use system. Although, it does not have a system for creating and categorizing pricing pages.
However, since there aren't that many courses, you probably don't need this feature.
However, Udacity has a clever way of structuring lessons. First, you get a short introduction to the lesson, the resources are on the left menu. Also, there is a summary of the concepts.
It appears that the YouTube video player is being used to play the videos.
This is good news since it is an advanced player that allows you to change the playback speed, manage your subtitles, or even decide the quality of the video.
At the time of writing this Udacity vs Udemy comparison, there are no mobile apps available for Udacity as they are working on a new experience for the mobile environment.
Also read: 11+ Best free AutoCAD classes, Training & Courses Online in 2023
Udemy vs Udacity – Costs
Both Udemy and Udacity offer free courses. However, the quality of free courses varies dramatically between platforms.
The free courses on Udemy tend to increase the sales of the paid courses more than anything and generally don't offer much value.
By contrast, Udacity's free courses are very detailed and generally cover much of the industry-relevant material that is covered in their Nanodegree programs.
Unlike Udemy, the main difference is that the free courses don't offer project reviews, mentorship, or certification.
For instance, even Udacity's free Intro to Computer Science course takes approximately 3 months to complete the course.
While you compare that to a "Foundations of Computer Science: Theory and Practice" course on Udemy which is only 4.5 hours long.
When it comes to paid courses, courses offered by Udemy can cost anywhere from $10 to $200 or more. Courses on the Udemy platform are often offered at a 90% discount.
At any given time, you are likely to find a well-rated course on any given topic, which is normally priced at $199 just for $10.
Also read: Is Skillshare worth it? Skillshare Review 2023 [Latest]
Udemy vs Udacity – Courses & Subjects/Topics Taught
It is a bit unclear to choose among the two popular online learning platforms which have a better course offering.
But not to worry, after we have seen a lot of clear comparisons, you will be able to choose between the two with ease.
With so many courses and programs available, it's hard to find which one to use. However, some e-learning communities make it easier for others to find relevant information.
Udemy has a great collection of courses and ranks them well into 13 main sections (and a dozen subsections).
Consequently, Udemy has one of the most advanced filtration systems I have ever seen. You can filter courses by level, language, duration, student reviews, or price.
It is also very easy to read reviews from previous students. Additionally, the classic star system rates courses from 0 to 5.
Each course has an introductory video that teaches you more about the structure of the course and the instructor.
Udacity's catalog is not as extensive as Udemy's. However, there are 7 main categories for the 40 programs available.
Udacity filters are not that advanced. You can refine your search by subject, free or paid, course length, level, and skills you need to learn.
Probably not as many filters are needed as the supply is somewhat more limited.
Getting reviews of Udacity programs on the website is a bit more difficult as they are found on the course landing page.
Which of them has better ease of access?
Unfortunately, some of the courses are too new to rate. So it's a bit more difficult to figure out what past students think of your courses and programs.
Each Udacity program includes a video with an overview of the program and comments from graduates. However, it feels more like an advertisement.
It is very easy to find the course information and a detailed description of the curriculum. There is also a section on instructors for each program.
Currently, Udacity has around 40 programs and about 200 free courses. Of course, this cannot be compared to the 130,000 (11,000 free) courses on Udemy.
Note that these two platforms take a different approach, as Udacity creates its own content (Udemy does not).
Udemy's course subjects covered include business, health and fitness, marketing, personal development, design, and more.
Udemy allows you to select shorter individual courses that interest you.
They do not necessarily keep you glued into a larger program like Udacity's Nanodegree courses.
Most Udacity courses focus on programming and development, artificial intelligence, cloud computing, data science, business, and autonomous systems. Usually, it's just tech-related stuff.
Also read: 20 Best New Skills Academy USA Online Courses with Certificates in 2023
Udemy vs Udacity – Who has the better instructor?
You may be the hardest-working student, but you can only reach your full potential if you have a great teacher and a teaching environment you can trust.
I will be accessing both the instructor on Udemy and Udacity. This will in order, help you choose right when considering the instructor's quality.
Udemy
Anyone can sign up and become a teacher on Udemy. As mentioned above, this can lead to course inconsistencies in terms of quality from one course to another.
Some courses are offered by local experts and have thousands of reviews, while others seem to be hastily prepared for a quick sale.
Before taking a course on Udemy, you should see who the instructor is and what their background is. Also, consider the course review and rating before making your purchase for better choice-making.
Nevertheless, Udemy does not have professors as instructors or college lecturers, but they have some high-quality expertise.
Udacity
On the other hand, Udacity is very different. To become an instructor, you must be able to demonstrate that you have a lot of work experience in your field.
Additionally, Udacity organizes its own content partnerships with large organizations like Amazon, Uber, and Google.
Overall
When making the Udemy vs Udacity kind of comparison, the instructors' category is a big factor. It's so important because it contributes about 75% – 80% of your learning on a particular topic or subject.
So, with Udemy giving room for anyone to create courses on its platform, it leaves some courses of low quality. While Udacity makes sure that its instructors are of top quality.
On that note, Udacity has a better instructor than Udemy based on the process of becoming one at the various platforms.
Also read: Best Courses on Coursera Reviews |10 reasons to choose Coursera in 2023
Certification and Accreditation – Udemy vs Udacity
While Udemy offers certificates of completion for every course you complete on the platform, they are not accredited as a university or other educational institution.
This means that your certificates are likely to have limited value in the eyes of interviewers when you apply for a job.
Courses on the Udemy platform are the best for teaching yourself a new skill. Either as a hobby or as a new skill that you, as an entrepreneur, can use in your own company.
It's not the best choice if you're looking for credentials to add to your resume or CV.
Udacity is also not an accredited university and does not award traditional degrees.
However, its Nanodegree programs represent a unique collaboration with leading industry partners.
These industry partners help develop your content and may even hire many graduates of the Udacity program.
While a Nanodegree certification from Udacity doesn't look as impressive as a college degree on your resume right now, it is definitely increasing in reputation and value.
Especially when it comes to the tech industry.
Some tech companies may highly value Udacity's nanodegree programs and even value them more than a traditional degree, knowing that the course material is specifically tailored to the jobs they are hiring for.
But other companies may not put as much weight on courses, so there may be a bit of success or failure.
However, if you are applying for a job in the tech industry, it's safe to say that a nanodegree from Udacity will look much more impressive on your resume or CV than a course certificate from Udemy.
Also read: 12 Best free Coursera Java programming Courses with Certificates in 2023
Udemy vs Udacity – Time and duration of the courses
Talking about the duration of courses, Udemy courses can last up to 30 minutes. Most fall in the 3-5 hour range, with more detailed 20 or 30-hour courses at the longer end of their offering.
There really aren't any Udemy courses that should take weeks or months to complete unless you really take the time to work on them.
In contrast, Udacity is a much bigger time investment.
You may be able to complete some of your beginner or introductory courses in a month or less.
Most courses, however, last 3 or 4 months, and it is assumed that you have around 10 hours a week to study the course material.
Summary of Pros & Cons – Udemy vs Udacity
Here's a quick one on the advantages and disadvantages of Udacity vs Udemy. It is of great importance you take note of these things below when choosing the platform that suits you.
Udemy advantages
#1. Huge variety of courses
Udemy currently offers 30,000+ courses on topics ranging from music to software design and development. If there is a specific skill you want to learn, chances are that there is already a Udemy course based on it.
#2. Low cost
Almost all courses on Udemy cost less than $200. Oftentimes, even more expensive courses are offered for as little as $10. About 10% of the courses offered on the platform are also free.
If you sign up for a course and change your mind, Udemy offers a 30-day refund policy.
#3. Low time commitment
Udemy courses generally focus only on the critical information and skills you want to learn about a particular topic. They take something complicated, cut off most of the fluff, and condense it into a few hours of the video course.
Since you have lifetime access to all the courses you have purchased, you can work on the courses at your own pace.
#4. Certificates on completion
Udemy offers certification upon completion of any paid course on its platform. This will give you an edge when applying for a job. At least, it looks better than nothing.
Also read: What can I do with Udemy Certifications? Job Outlook
Udemy disadvantages
#1. Not generally recognized academically
Including a Udemy certificate on your CV or résumé is not impressive at all to most employers when applying for a job compared to accredited college degrees or diplomas.
Udemy courses are more about transferring practical knowledge than academic credit.
#2. Low-quality courses
Since anyone can upload a course to Udemy, the quality, of course, materials can vary dramatically from one video to another.
Some courses may simply be an instructor speaking into a webcam, while others may include slide shows, screenshots, and other presentation methods.
In general, the interaction between teachers and students is very limited.
#3. Less value for money
Most of the time, if a comparable course topic is available for both Udemy and Udacity, the Udemy topic will likely offer less value. Especially if you pay full price for a course and don't use a sale price.
This is because Udemy courses are typically only a few hours long, while a Udacity course typically has months of worthwhile content.
Udacity advantages
#1. Great quality courses
Udacity has partnered with leading industry experts to offer courses that offer exceptional value. This also applies to their free courses.
If you only want to study computer science as a hobby and you don't necessarily care about credentials, the free courses offer a level of quality that you would expect from a college course. Some of the content is provided directly by companies like Google.
#2. Good course design
The courses do not contain unnecessary information. The content is dynamic and of high quality. It is the caliber you would expect from an online course offered by a university or similar institution.
#3. Cutting-edge course material
When you take a course on Udacity, you will learn the most up-to-date information available. Its courses cover topics such as machine learning, artificial intelligence, and self-driving vehicles, the demand for which will only increase in the future.
While in a more traditional college course, you may learn concepts that are already a few years out of date.
#4. 1-on-1 technical mentors
Most Udacity Nanodegree programs involve working with an individual mentor to guide you through your learning. They can answer all your questions, keep you updated, and make sure you stay motivated.
Udacity disadvantages
#1. Can be expensive
At $399 per nanodegree, taking courses on Udacity may be more costly than some other online learning sites out there.
#2. Limited course subjects
Udacity is very focused on a technology-centric curriculum. While this can be great if that's what you're looking for, their offerings are limited if you're interested in other areas of expertise.
#3. Credentials are unproven
Udacity's Nanodegree program is not traditional and is not as accredited as a university. A nanodegree on your resume is preferred to a Udemy certificate but has yet to be proven.
It's hard to know how employers will interpret Udacity credentials on your CV or resume. They may not know enough about the programs to trust them and may not be interested in doing research to find out.
#4. Can feel isolating
Udacity discussion forums need improvement. The feedback you receive on submitted projects is often not meaningful.
Your classes can feel lonely, especially free ones. Udacity also offers relatively limited language support compared to Udemy and other online course platforms.
Also read: Best Financial & Capital Markets Courses With Certificates in 2023
Udemy vs Udacity – Their alternatives
If you are looking for an alternative to Udemy, I highly recommend checking out Skillshare.
Skillshare works on a subscription model. You pay $15 per month and can take as many courses as you want on their platform.
This means that you are not required to purchase individual courses and can freely switch between courses to see what interests you most.
Like Udemy, Skillshare has an extensive catalog of thousands of different courses on a wide variety of topics, so you will almost certainly find a course on what you want to learn.
If you really want to consider Skillshare, just check out this Skillshare vs Udemy comparison.
Lynda, also known as LinkedIn Learning, offers a subscription system and the ability to take multiple courses, having recently been adopted by the LinkedIn platform.
Also, Lynda offers a wide range of courses with a greater focus on career topics such as business, software, and web development or design.
As well, you can check out this Skillshare vs Lynda comparison for more on both platforms.
But if you are specifically interested in IT or technology-based skills, you may also be interested in Pluralsight.
Then, if you prefer the more academic nature of Udacity over Udemy, consider looking for more structured online courses, such as those offered by Coursera or edX.
If you are concerned about how a particular certificate should look on your CV or resume, platforms like Coursera are a great option.
The courses offered on Coursera are legitimately sponsored by a royal college or university such as Princeton, Yale, or MIT.
Check out this full review on Coursera for more information on how to compare Udemy vs Udacity vs Coursera.
Conclusion
Hopefully, this Udacity vs Udemy comparison has cleared up most of your questions and you already know which e-learning community to go with.
Udemy is a great online course platform if you're just looking to take some shorter, more casual courses. Check out our list of the most popular Udemy courses for some ideas and inspiration.
The courses offered on Udemy focus more on acquiring hands-on skills than on technical details and academic material.
Udemy offers thousands of different courses on a wide variety of topics.
On the other hand, Udacity offers a more specialized learning opportunity for those looking to learn about technology and computer science topics.
They work with leading companies in the industry to offer unique nanodegree courses.
If you're looking for education between the two, Udemy vs Udacity, in cutting-edge technology topics, Udacity might be the right choice for you.
But if you are on the lookout for specific skills, Udemy should be your option.
Above all, with what you have seen on the Udacity vs Udemy comparison, you would be clear on which platform to choose.
I want you to tell me which one you would love to go with or what you feel should be included in this Udacity vs Udemy comparison.
Frequently Asked Questions (FAQs)
What is the main difference between Udemy vs Udacity?
Udemy offers shorter, lower-cost courses on a variety of topics that anyone can produce. On the other hand, Udacity offers expanded Nanodegree programs in collaboration with leading industry partners and generally focuses on technology-related topics.
Also, Udemy operates on a pay-per-course approach ($10.99 to $ 199.99). While Udacity offers Nanodegree courses and one-time fee courses that cost $399 a month and takes 2-6 months to complete.
Between Udemy and Udacity, which is better?
Udemy is better for those who want to take courses on personal development and creative skills while Udacity is better for those who want to take courses on tech-based skills and computer science.
How to pronounce udemy
This is how to pronounce Udemy; You-de-mee which is a portmanteau of you + academy.
Recommendation