Certainly, in this VIP digital marketing master course, you will be able to learn Instagram marketing, Facebook, SEO, Google ads, Youtube, Email & Mailchimp, WordPress & lots more.
VIP Digital Marketing Master Course is a complete package for people who want to learn marketing and start to make money with it, either by selling your own product or by working as a freelancer for other companies or start your own social media marketing agency.
Along the course we will learn both how you can do a successful marketing for on different channels and how you can build a successful business with clear instructions.
All the course documents are written and available with lots of bonuses and prepared templates, to make the process of learning and working as a digital marketer become easier.
Featured Sections:
1. Facebook Advanced advertising:
This section include golden and extremely powerful ads strategies that even some professional marketers don't know about them, and came from many years of experience from different social media marketers. Strategies such as "Three zero club", "Using affinity score", "1k email contest" and much more.
2. Get Clients:
One of the most complex sections that we have inside the course that we will learn how to contact potential clients to be able to convince them to sign the deal.
We will start from:
The first message
Setting up a meeting
Win the meeting and convince them
Sign the deal
Keep them as your clients
3. Email marketing
One of the most complete sections which not only you will learn marketing strategies but also how to use 2 fantastic email marketing platforms such as Mailchimp and GetResponse.
Not everyone knows about digital marketing cognitive biases, and please please use them in an ethical way. With cognitive biases, you will have the ability to convince people toward your goals and it is extremely important to use it for ethical purposes. If you are not sure you can do it please do not join the course.
Google Ads
We also will go very deep in Google ads which is the heart of every business. You will learn the fundamentals and how you can use them to have successful ads, avoid mistakes, and use powerful strategies inside it.
Next we will learn about 4 type of business energies which is very useful in marketing, to analyze your product and your customer and to know what strategies will work best on them. This system is developed by my mentor years ago and since I learned myself, I used it a lot and brought so much benefit into my businesses.
SEO (search engine optimization)
The next topic we are going to focus on is SEO (search engine optimization), how to bring our webpages to rank on the first page of Google and other search engines. We will start this section by learning more about keywords and how we can select the best possible choice.
One of the most complete sections which we have in this course is Instagram marketing which you will learn everything that exists in Instagram marketing. How to improve your page, how to improve your content quality, more than 20 marketing strategies to grow your page. Instagram automation tools that help you along the way. How to create viral posts on Instagram and so on.
Also, the next step is about Facebook marketing, we will learn how to build a page and grow it using specific digital marketing strategies. we will learn how to build a group and market it as a source for our business. we will learn Facebook advertisement which is important in digital marketing. There is another thing which is important to learn, which is retargeting. We will learn and practice it also along the course.
Google analytics.
The other important tool we need to learn is Google analytics. Along the way, in our business, we will face lots and lots of problems and Google Analytics will help us to fix those problems and suggest the best possible solution.
Also by the end of VIP Digital Marketing Master Course you will receive your "Social media marketing" certificate so you can use it on your resume to increase your salary.
Also read:
Growth Hacking with Digital Marketing 2020
Artificial Intelligence In Digital Marketing 2020
Digital Marketing Tutorial – Complete Guide to Digital Marketing| 12 in 1
Finally, if you are ready to start your own business and make good money, join this course NOW. Master digital marketing, build your social media marketing agency and take your business to the next level with "VIP Digital Marketing Master Course : 31 Courses in 1" course.
In this digital & Social Media Marketing course You will learn:
Marketing Fundamentals:
Pro Market Research
Marketing Planning
Website Marketing:
Build a website with low budget
Build an advanced website with more budget
Website Optimization
Search engine optimization – SEO
Email Marketing
Email automation
Copywriting
Social Media Marketing:
Instagram marketing
Beginner
Intermediate
Ads
Advanced
Facebook marketing
Beginner
Intermediate
Ads
Advanced
Pinterest marketing & ads
Linkedin marketing
Youtube Marketing
Twitter Marketing
Google ads
Google analytics
Digital Marketing Mentality:
Cognitive biases
Business energies
Marketing Mindset
How to make money with marketing: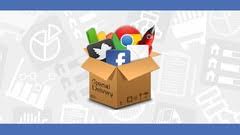 Social media marketing agencyForming your agency
Pricing
Finding clients
Getting clients
Creating a team
Manage clients
Freelancer
Entrepreneurship Mindset
Benefits of this course
Requirements
Who this course is for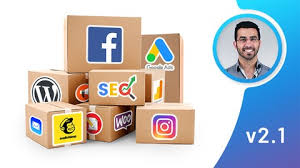 Recommendations
2020 Online Marketing Business Tutorial, Free Download
17 Best Selling Web Development Courses on Udemy| Free Download
Artificial Intelligence 1: A Guide on how to create smart applications & AI
10 Best Selling Courses On Udemy 2020| Free Download